Listen up, financial planners!
Have corporate gifts gone the way of formal dress codes and the 9 to 5 work day? In a world where voicemails are considered an annoyance, is there a place for a good old-fashioned holiday gift? Absolutely! According to one study, businesses measured a 91% effectiveness toward achieving their goal via gift giving. So what can gift giving do for your business?
Say "Thank You" to your Customers
Danke shoen. Gracias. Merci. Arigato. You get it… thank you.
Generate Goodwill
You know what is not fun? Target Date Funds. You know what is fun? Getting a gift from your financial planner.
Build Business
You're in a client-based industry! What better way to be top of mind and stand out from the competition for a positive reason?
Create referrals
If you give me food, I'm going to be telling others about you. If you give me chocolate? Well, you may be looking at a marriage proposal.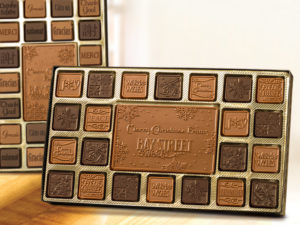 So what are you waiting on? Check out our line of gifts perfect for your clients, employees, or that group of people who deserve a thank you!
What about Custom logo chocolates?
Custom logo chocolates take about 3 weeks to produce.
It's easy, just email us your logo as a JPEG.
Choose from a variety of colorful boxes and bands.
Both milk and dark chocolate available.
Choice of "Happy Holiday" or "Thank You" squares.  Ask about additional custom themes!
We ship directly to your client.
Contact us to place your order today at [email protected]