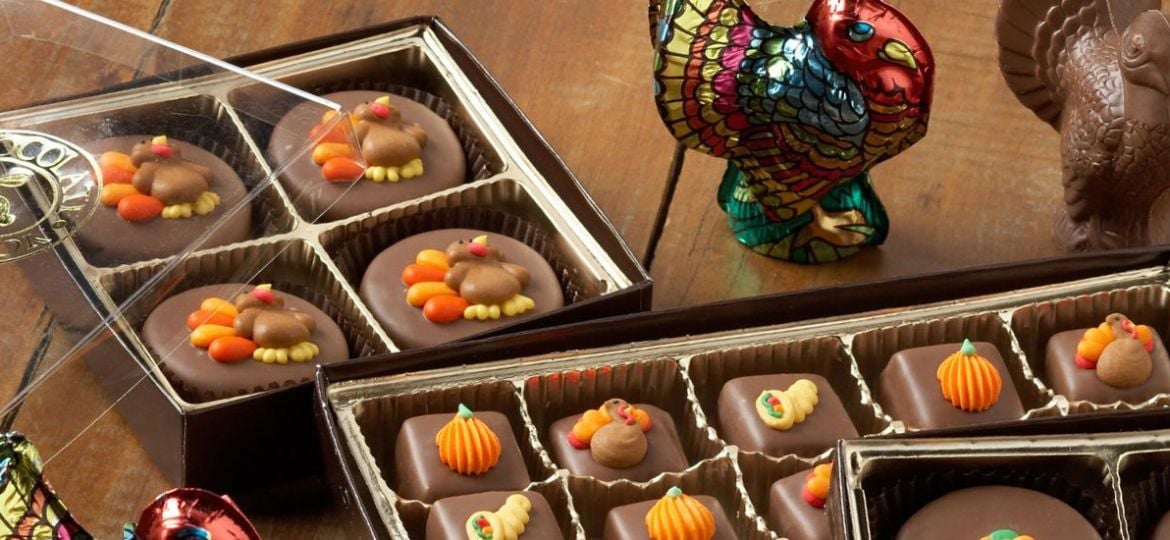 Thanksgiving Chocolates: Host & Guest Gift Guide
With Thanksgiving coming up, it's time to start thinking about festive treats. At Chocolate Storybook, we make it easy to help find the best offerings for both hosts and guests. Read on for ideas to make your celebration even sweeter with our Thanksgiving chocolates and treats.
Hostess Gifts
Finding a gift for the Thanksgiving host that conveys your gratitude is easy with our signature assortments. The Fall Chocolate Assortment  includes milk, dark and white chocolate covered creams, caramels, clusters, and more. This abundant chocolates are perfect to sample with guests or to enjoy yourself!
Table Settings
Add special touches to each place setting with chocolate accents from our Thanksgiving collection. Whimsical Foil Chocolate Turkeys provide a pop of color and creamy experience. Or give guests an elegant Chocolate Sandwich Cookie with a creamy filling and decorated with a turkey decal.
Thanksgiving Dessert Spread
After the big meal, chocolate makes the perfect dessert! For bite-sized indulgence, offer a chocolate aperitif with our gourmet Chocolate Dessert Truffles with amaretto, Gran Marnier, or Chambord fillings. If you want to go big, have a spread of gourmet Chocolate Caramel Apples – dipped in milk chocolate and buttery caramel, then rolled in exciting flavors like toffee, pecan, or chocolate drizzles.
At Chocolate Storybook, we've crafted delightful chocolate gifts since 1986. This Thanksgiving, say thanks with our festive host and guest chocolate treats!
Browse Top-selling Thanksgiving Chocoaltes Below