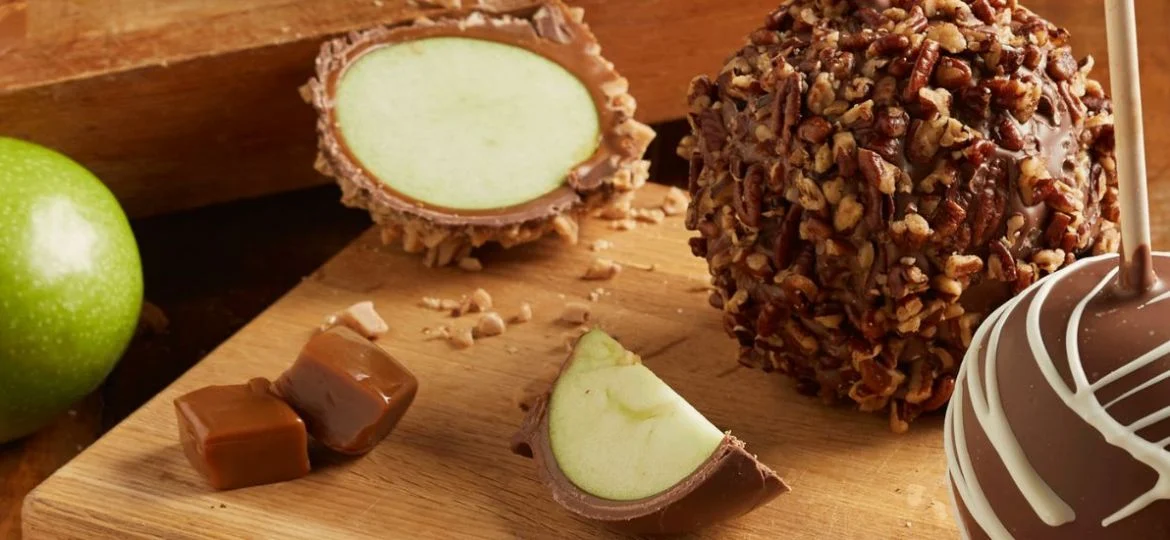 The Tale of Chocolate Caramel Apples: the history of A Match Made in Sweet Heaven!
Explore the Sticky, Sweet Love Story
Ah, chocolate caramel apples – those crunchy and creamy delights that make our taste buds dance with joy and our hearts skip a beat. But how did this treat come to be? Join us on a journey through the history of chocolate caramel apples and uncover the sticky, sweet love story behind this enchanting creation!
The creative spark from something tart
Once upon a time, in the not-so-distant past of the late 1950s, a Kraft Food's employee, Dan Walker worked on a batch of Halloween caramels. Suddenly, Dan spotted a basket of fresh granny-smith apples and had a curious thought. What if I paired the two together? As he dipped the apples in the warm, gooey caramel, something magical happened – a burst of sweet and fruity flavors began to unfold, and he knew he was onto something extraordinary. The idea was a hit, and soon after, the first chocolate caramel apples made their debut.
Crisp apple for a crisp, fall day
Dan's invention instantly grew popular during the autumn season, making it a staple when a cool breeze fills the air and the leaves begin to change color. What's better than enjoying this treat at a carnival, corn maze, or pumpkin patch? However, Dan's original recipe included a special ingredient – roasted nuts. This inspired candy makers to turn this treat into a year-round delicacy with a variety of flavor combinations. From classic caramel and chocolate-dipped to extravagant toppings like sprinkles, crushed cookies, and even candies, the possibilities became endless. Today, chocolate caramel apples have become a cherished tradition that brings joy to people of all ages. They are not only a delightful treat but also a symbol of celebrations and togetherness.
Celebrate apple days at chocolate storybook
Since 1986, Chocolate Storybook has been the go-to destination for delicious chocolate caramel apples. Every October, we celebrate Apple Days at our family-owned chocolate shop in Des Moines, Iowa. This three day event includes 20+ unique combinations of chocolate caramel apples with a large variety of toppings. Year-round you can indulge in our signature chocolate, pecan and toffee apples as well! Check out our variety of apple gifts HERE!