PERSONALIZED EASTER EGGS
Easter is Sunday, April 9th. Pre-order your personalized Easter Eggs today.
*If you would like to ship eggs, or pre-pay for eggs, please use the website for Hollow-Filled-Eggs or Fudge-Filled Eggs or call 515-226-9893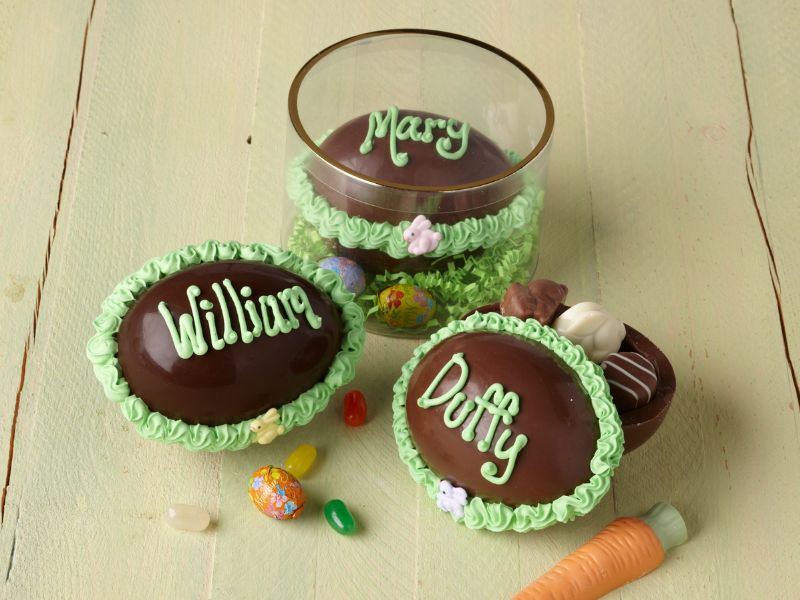 Hollow-Filled Milk & Dark Chocolate Eggs $23.50
A beautiful addition to your Easter celebration…a hollow milk or dark chocolate Easter egg is filled with 1/3 lb. of assorted chocolates then decorated with icing and personalized.  The egg comes nestled in Easter grass in an elegant clear gift box.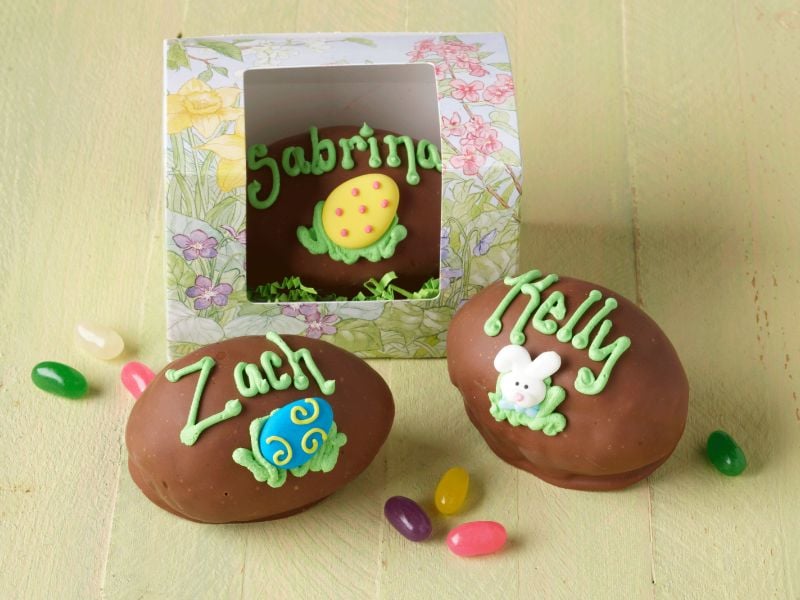 Solid Fudge Eggs $16.95
We handcraft these tasty fudge eggs, then cover in pure milk chocolate. Available in peanut butter, chocolate or cookie dough. We then personalize and place in Easter grass and an elegant clear gift box.
All prices include gift boxes.
Eggs need to be picked up at our store at 1000 Grand Ave. in West Des Moines
For more info, call 515-226-9893 or email [email protected]
Check out this video to learn more about our Chocolate Eggs!
Our Easter Chocolate Story
Since 1986, Chocolate Storybook has crafted custom, handmade chocolate eggs for the Spring & Easter season with the help of our cotton-tailed friend. Our chocolate eggs represent more than just a sweet treat – they are a symbol of family, tradition, and the simple joys in life. Whether you're a child or an adult, there's nothing quite like the feeling of biting into a delicious Chocolate Storybook egg and savoring the moment, knowing that you're carrying on a cherished tradition that has been enjoyed for decades. Thank you to everyone for supporting our small family business!
How Eggs are Made
Our Hollow-Filled Chocolate Eggs are handcrafted using the time-honored tradition of tempering pure, milk chocolate into egg-shaped molds. After cooling, the eggs are removed to reveal a smooth, glossy appearance. The bottom half is filled with a milk chocolate caramel, milk chocolate butter cream, peanut butter smoothie, milk chocolate caramel marshmallow, caramel bunny, white chocolate mousse bunny and 2 foiled solid milk chocolate eggs. Next, the two halves are bonded together with sweet, green royal icing. It's no wonder we make 1,400 a season!
Our fudge-filled eggs are a labor of love, requiring careful attention to detail and high-quality ingredients. Our recipe calls for mixing butter, sugar and creams together to create the perfect consistency. After cooling, we hand-roll peanut butter, cookie dough and chocolate fudge into egg shapes before enrobing in pure milk chocolate. The eggs are decorated with green royal icing and Easter decals.
Join the 30-year-old tradition and reserve online today!
Browse our selection of gourmet Easter chocolates, baskets, boxes and candies online HERE!