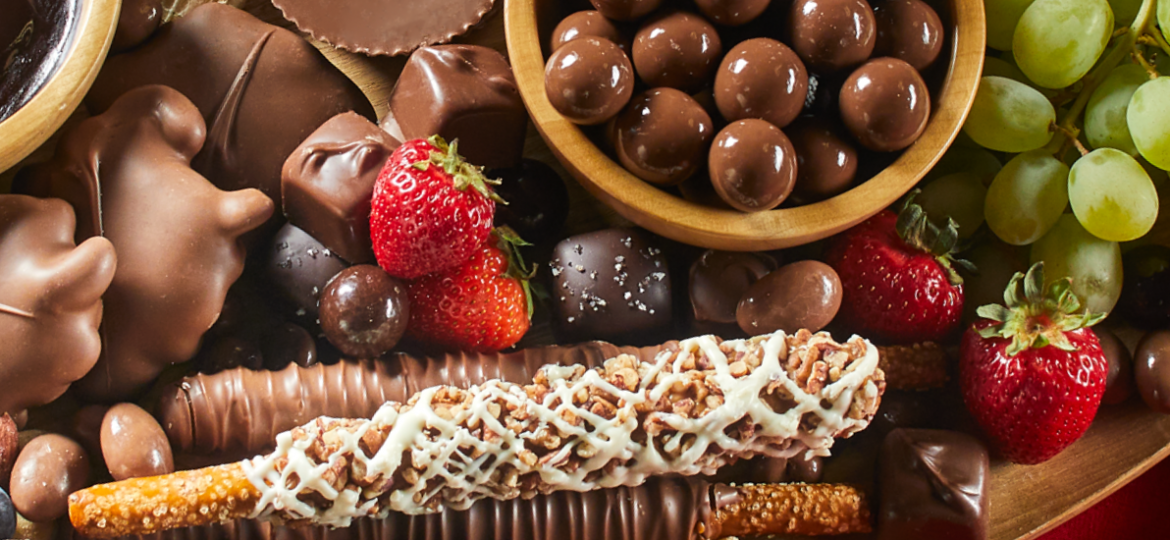 Specialty Chocolates For Everyone
Indulge in the Magic of Chocolate Storybook's gourmet treats you won't find anywhere else.
At Chocolate Storybook, we take that pleasure to a whole new level with our specialty chocolates. From classic flavors to unique combinations, our chocolates are handcrafted with the finest ingredients. We have a variety of sweet and salty to please every sweet tooth! Read more to see some of our favorites!
Malted Milk Balls – A Sweet and Crunchy Classic
At Chocolate Storybook, we don't settle for ordinary treats – we aim to make your chocolate dreams come true. Our malted milk balls are the stuff of legends, with a crunchy malt center that's double-dipped in velvety milk or dark chocolate. These are not your average malted milk balls – just ask our loyal fans who can't get enough! Indulge in these bite-sized joys with a generous 16 oz. bag of Milk or Dark chocolate. Trust us, you won't want to be without them. SHOP NOW.
Chocolate Caramel Pretzel Rods – A Perfect Mix of Sweet and Salty
If you're looking for a treat that's both sweet and salty, our Chocolate Caramel Pretzel Rods are sure to hit the spot. It's no surprise that they're one of our most popular items and a favorite for both gifting and snacking. We start by kettle-cooking our caramel to perfection before drizzling it over a crispy pretzel rod. Then, we coat each rod in pure milk chocolate. The result? A mouthwatering flavor that's truly unbeatable. These irresistible treats come in a clear cello bag, with three pretzels per bag. Trust us, you won't want to share! SHOP NOW.
Chocolate Covered Licorice – A Unique and Delicious Treat
we're always dreaming up new and exciting flavor combinations, and our Chocolate Covered Licorice is no exception. We start with fresh, sweet strawberry licorice and coat it in pure milk chocolate for a taste that's truly indulgent. To finish, we add a milk chocolate drizzle that takes it over the top. These delectable treats come sealed fresh in a clear cello bag, with eight pieces per bag. It's like biting into a chocolate-covered strawberry, but without the stem! SHOP NOW.
Chocolate Caramel Sandwich Cookies – A Heavenly Combination
Our Chocolate Caramel Sandwich Cookies are a true masterpiece, crafted exclusively in the Chocolate Storybook kitchens. We start with a classic sandwich cookie and add a generous dollop of fresh caramel before enveloping it completely in pure milk chocolate. The result is a cookie that's both indulgent and satisfying. These special treats come in an elegant clear gift box, with four cookies per package. It's a perfect gift for someone special or a well-deserved treat for yourself. SHOP NOW.
At Chocolate Storybook, we believe that chocolate is more than just a treat – it's an experience. That's why we take such care in crafting our specialty chocolates. With a range of flavors and textures to choose from, our chocolates are sure to satisfy any craving. So go ahead, indulge in the decadence of Chocolate Storybook's specialty chocolates. SHOP THE COLLECTION HERE.