PERSONALIZED EASTER EGGS
(Add some chocolate bacon for the complete Easter morning breakfast!)
Easter is Sunday, April 5!  Pre-order your personalized Easter Eggs here.*
Also available for Easter is our famous chocolate-dipped bacon, Muddy Pigs. Pre-order bacon by the box.
*If you would like to ship eggs, please call 515-226-9893 and place your order with us by phone.
Solid fudge eggs $11.50
Available in chocolate, cookie dough or peanut butter, each including personalization.
Hollow-Filled eggs $17.50
Solid milk chocolate, filled with assorted chocolates including caramels and creams, each including personalization.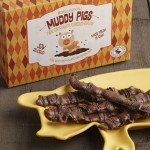 Chocolate Bacon-Muddy Pigs $19.95
Box of 6 slices of bacon covered in milk chocolate and drizzled in dark chocolate. (Eat within 5-7 days of picking up.)
All prices include gift boxes.
Eggs and Bacon need to be picked up at our store at 1000 Grand Ave. in West Des Moines
Extended hours:
Monday-Thursday: 9 a.m.-7 p.m.
Friday-Saturday:  9 a.m.-6 p.m.
Closed Easter Sunday
For more info, call 515-226-9893 or email meg@chocolatestory.com